When it comes to how to create Instagram ads in Nigeria, there are certain factors that should be in place first to make this possible. No doubt many business owners want to know how to advertise on Instagram in Nigeria. But few actually possess factors that make Instagram ads creation a possibility for their business. Aside from that, some business owners think Instagram ads are not good for business. This is because they believe Instagram is just a place for young folks to have fun and play away.
As a business owner of any kind, there is a need for you to consider Instagram ads as a viable tool to promote your business online because:
To create Instagram sponsored ads on the platform, you need to have any of the following combinations.
A well-customized small business website, Facebook and Instagram page
Or
Facebook and Instagram Page
If you don't have the budget to hire a web designer, watch this video guide and create a beautiful business website by yourself in few hours.
Of the two options above, the first is preferable, because, with a website, you will have a total control of how you want visitors to behave on Landing pages. This in turn will increase conversion for your brand. Be that as it may, if all you have is a Facebook and Instagram business page, you are still very much okay to create converting ads for your business.
Just like Facebook ads setup, spending some naira on Instagram sponsored ads can give your brand a whole lot of exposure and boost business deals and sales. With just a few thousand naira, thousands of people will have to know about your brand and products/services within 24 hours alone. No matter where your business is located, there are people you can reach via Instagram in your locale. And it does not matter whether you are in Lagos, Abuja, Port Harcourt, or some remote town in Nigeria. Instagram sponsored ads will work just fine for you.
According to statistics by Hootsuite, though the majority of Instagram users live in urban areas a large percentage of users also live in the suburbs. So, there is always someone to reach and company executives and CEOs to target when running your ads. Instagram ads are mainly picture and video base with text as well. Meaning you have to set up a catchy picture for your ads. But if you are into an industry where your work is usually displayed in pictures like having a real estate website or company, then you don't have to spend time creating pictures for your Instagram sponsored ads. In such cases, your finished projects will be your Instagram marketing tool.
How Much Does it Cost to Advertise on Instagram in Nigeria
Instagram sponsored ads are not as expensive as many people make them to be. In fact advertisement on Instagram is very cheap. With a budget of ten thousand naira, you could create Instagram sponsored ads that would run for 20 days or more. The key is what your target is and how you want to approach it. While brands who know the power of Instagram ads spend hundreds of thousands running ads on the platform others see no need at all and stay behind. Let's face it, not every business owner has a big vision for their brand. That is probably one reason businesses that appear to be doing great just fold up when they face serious but surmountable challenges. Brands that get ahead are those into aggressive marketing either online or offline, and those deploying a combination of both always do better. So whatever your budget is, you are good to start with Instagram advertising.
The good thing about learning how to create Instagram ads in Nigeria is that you get to spend what works for you either on a daily, weekly or monthly basis. You can fund your Instagram ads account with N30,000.00 (thirty thousand naira) for instance and decide to set your daily budget limit at N 500.00 (five hundred naira). That way, your N 30,000.00 (thirty thousand naira) will last you for sixty days. Meaning that Instagram ads cost in Nigeria could be as little as N 3,000 for 6 days period at N 500 per day
How to Create Instagram Ads in Nigeria or Sponsor Post on Instagram
Before you can create an advert on Instagram successfully, you need to have a Facebook business page and add a payment method. That means, both Facebook and Instagram apps are installed on your phone. You can also now create ads if you have just Instagram page only. But If you don't have a Facebook page yet, see the complete guide on how to create one then see this video that teaches how to link your ATM card or debit card to your Facebook page for payment by Social Vantage. You can also see how this is done with the video below.
Just like Paid Advertising (PPC) there is a process for initiating or creating an Instagram advertisement.
First, open your Instagram app and make a post or posts that will serve as your Instagram sponsored ads. This is the simplest method and it will work just fine for your business. This post you want to make could be one of the following.
Image post with text. This is a regular photo post that requires no explanation as to how to post it to your page with text and hashtags. What is however relevant is that it's going to be a sponsored post on Instagram. Because your money is been invested, then you ought to consider certain things.
Video post with text. Again, this is just like posting your video to Instagram, the only difference been that it's going to be a sponsored video.
When making a sponsored post of any of the formats above, remember that you are trying to sell your brand to new customers. Think of what you would ordinarily say to a potential big client you want to market your brand or product to. You must consider that Femi Otedola might just see your brand and like it. So write an ad that sells your business seamlessly.
Therefore, strongly consider adding a good USP (Unique selling point) Your unique selling point is the reason why potential clients should choose you over other brands if they have alternatives. Tell of how your company's services or products are unique and exceptional. Also, consider including your contact details in the text aspect of the ad or in the image. Just your phone number should be enough for this purpose. In video ads, make your video clear and enticing with your USP in it as well. Note that It is not compulsory to add your contact details, but if rightly done, it will help with your conversion.
After writing the post and you are impressed, then it's time to add hashtags. Study shows that adding hashtags to Instagram ads help with conversion and views a great deal. This is because people search hashtags on Instagram and when the right hashtag is used, your post will pop up in searches and give you further views even if it's not a sponsored post.
Hashtags are a combination of letters, numbers, and emoji followed by the # symbol (i.e. #business, #WorldCup) Instagram categorize content makes hashtags more visible. If anybody clicks on a hashtag you use in your post or searches for it, he or she will see a page with all the posts tagged with that particular hashtag.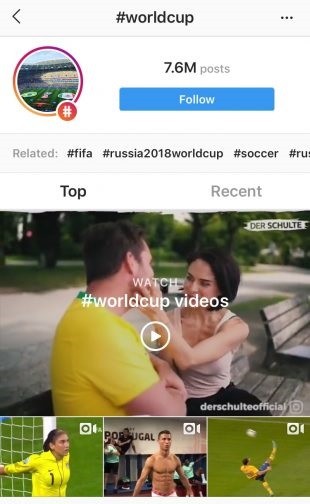 Though you could use up to 30 hashtags in a single post, that does not mean you should. A study has shown that nine hashtags perform better, so use nine or fewer hashtags for your post. Because this is not written in stone, Hubspot is of the opinion that you should test to see which number works best for your brand. This is not saying you should go ahead and use 15 hashtags for your post or 25. Find your magic number from one to ten hashtags.
Now that you are done with your post and have published it, visit the post, and you will see an option to boost the post with the promote button. (If you want to watch the video rather than this step by step written guide, scroll down to the video)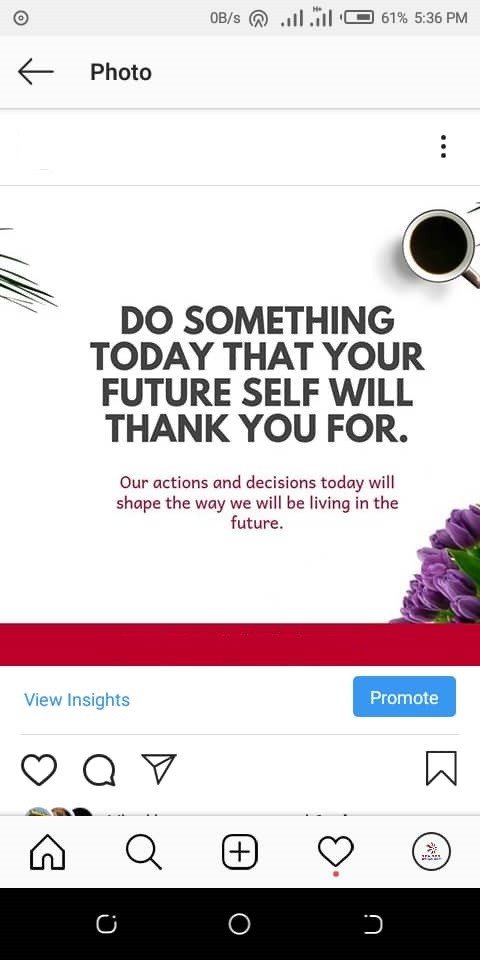 Click on the promote button and you will be redirected to your Facebook app to sign in. This is to link your Payment method on Facebook to Instagram for billing purposes.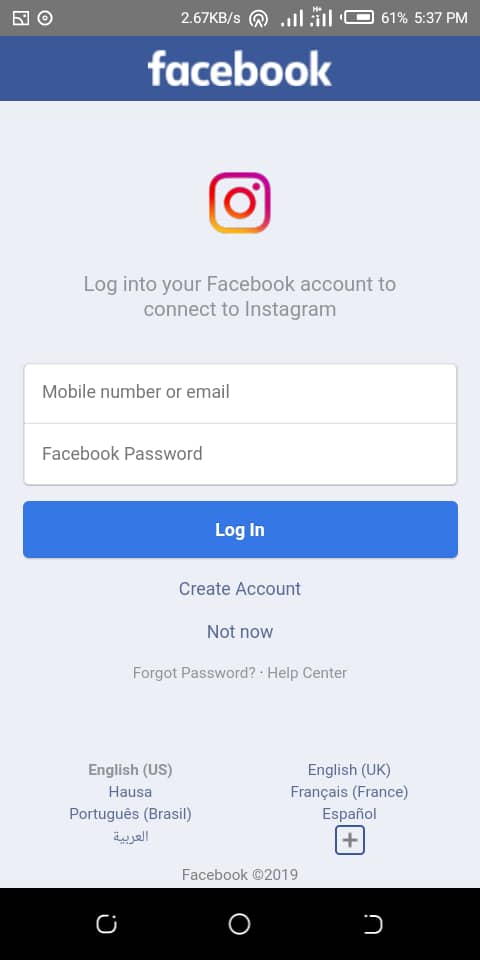 Enter your Facebook user and password to be redirected back to Instagram and continue with your Instagram sponsored ads setup.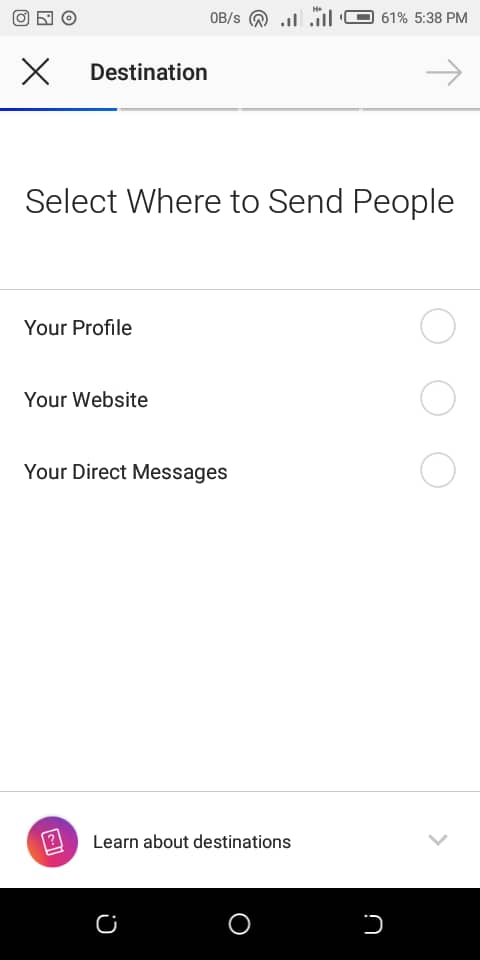 Under this setting, you have three options on where to send your potential clients after reading your ads.
Your Instagram page profile. When you opt for this, when they click your call to action button (i.e. Sign up, visit profile) they will be redirected to your page to know more about your brand.
Your website. You select this if you are sending them to your website home page or any landing page you have created either to collect their contact details or help convert them to instant clients or both. If you don't have a website for your business yet contact 360 Hub.
Direct message (DM) to you. This option will have those interested in your products send you a DM. Their message to you could either be informational or transactional.
Select an option and go to the next step.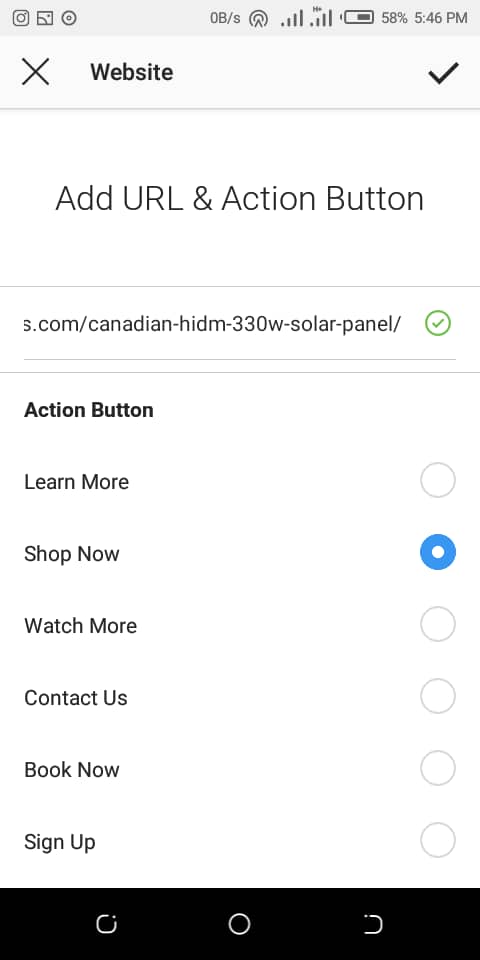 Now select the right call to action button you want for your ads. Your call to action choice is determined by where you are sending them to.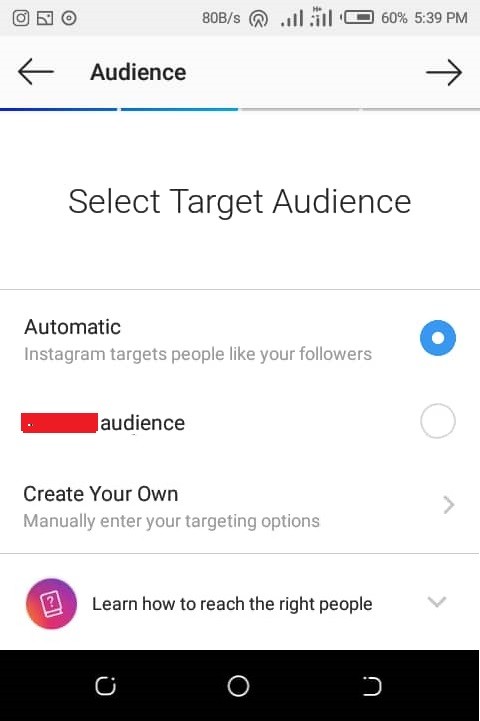 How to Target The Right Audience on Instagram Ads
Now is time to determine your target audience. Here the option you will see as a first-timer is automatic or create your own. Select create your own so you can determine your own targeting and not leave that to Instagram.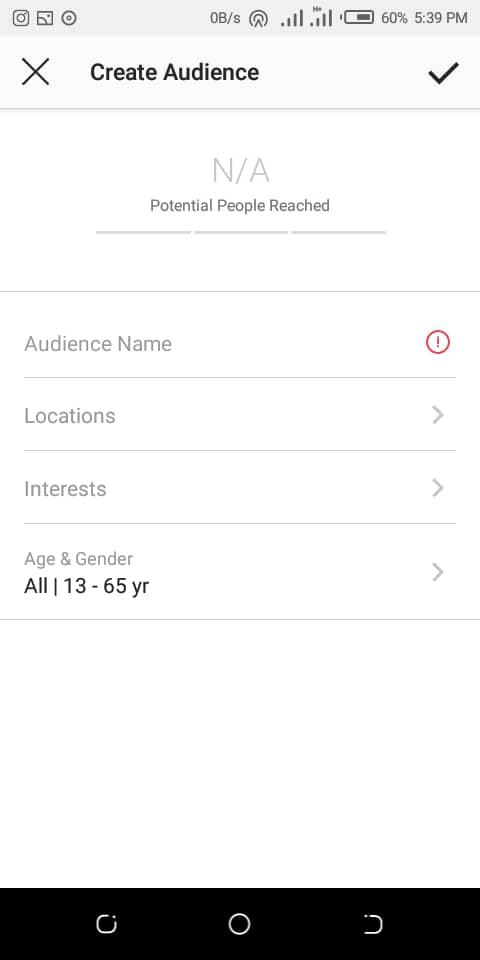 First name your audience. The name could be after the product or service you are promoting. This is to enable you to remember and just chose that next time without having to go through the process again if you are setting up Instagram sponsored ads in the future for the same product/services.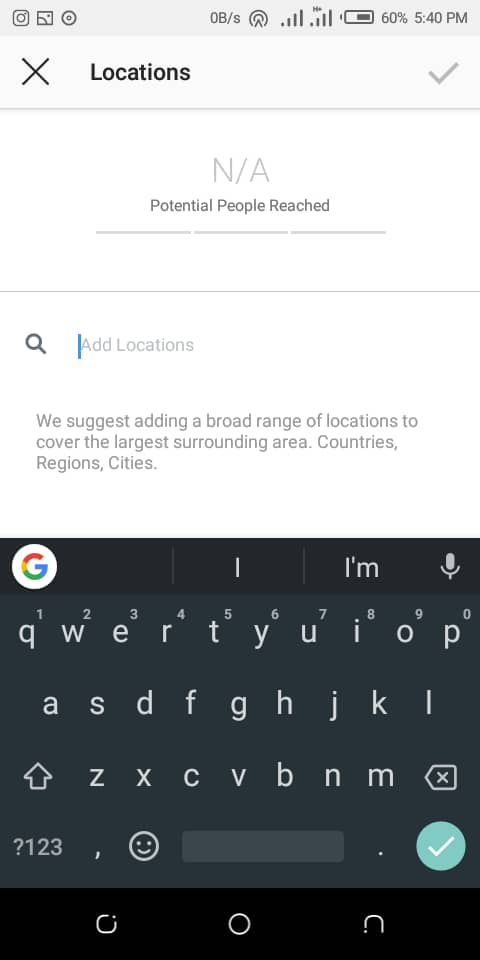 Add Location, the more location you add, the larger your target audience or reach. You do this by typing Lagos for instance and you will see the number of persons you are likely to reach. Enter location name and tap to add.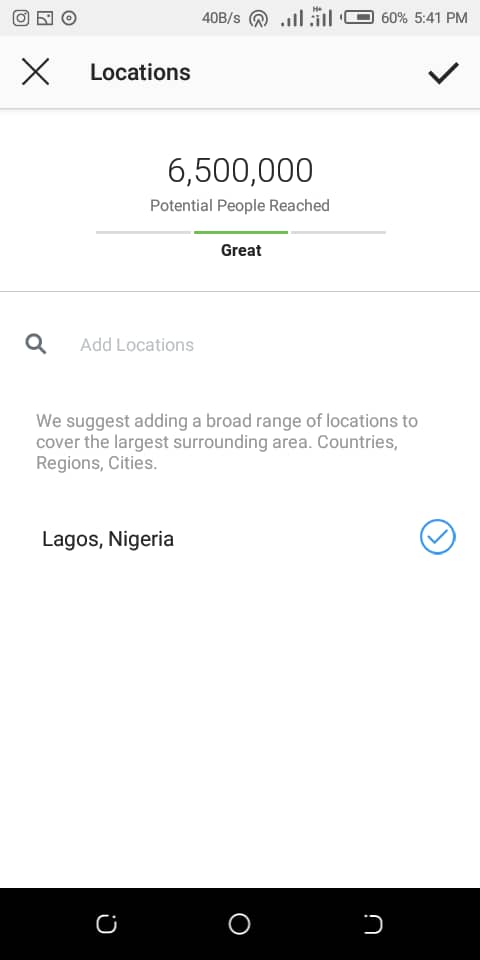 Add more locations if you are not targeting one state. Note that you can also target certain areas only in a state. For instance, you can decide to target only those living in Lekki Lagos for instance. The video people will help with your targeting.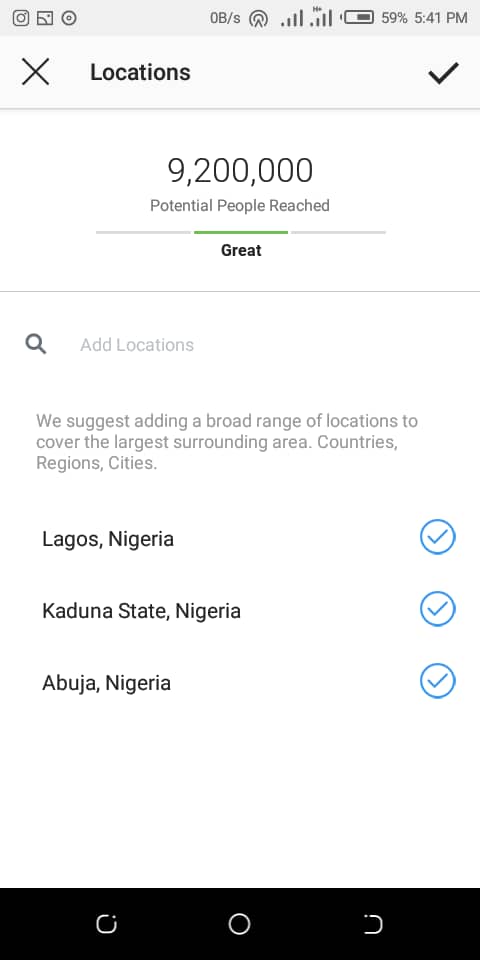 Now determine the age of the people you want to target. Think of the age range that would be interested in your product or service and adjust the bar to the right number.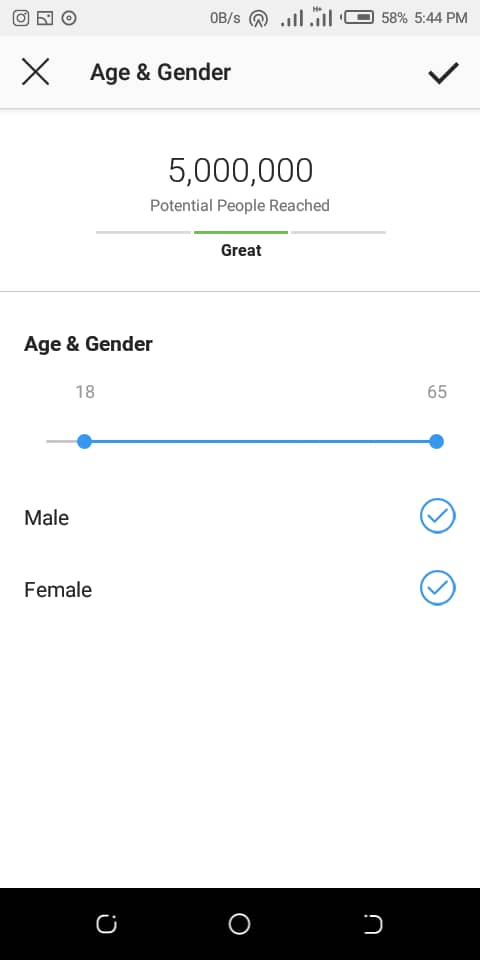 Also, select the gender you which to target. If you are selling lingerie, for instance, you don't have to target men in your Instagram sponsored ads unless maybe valentine period. Make sure you select gender if your service or product is gender-specific.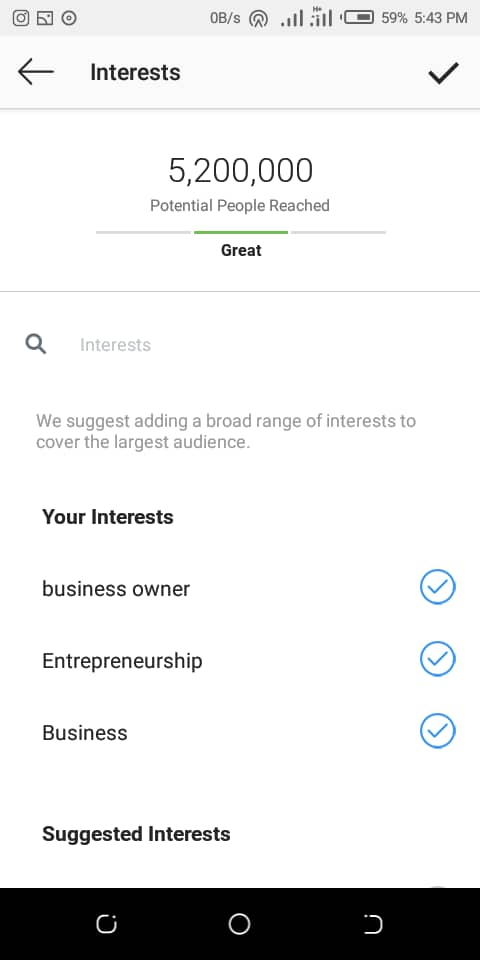 Further, restrict your ads by the interest of Instagram users. Do you want to target business owners or entrepreneurs? Are you selling your services to those with an interest in education etc? What category do you think those likely to do business with you or buy your product falls? Start by typing it and Instagram will give you many options to target or you can just tap the check icon at the top right to continue.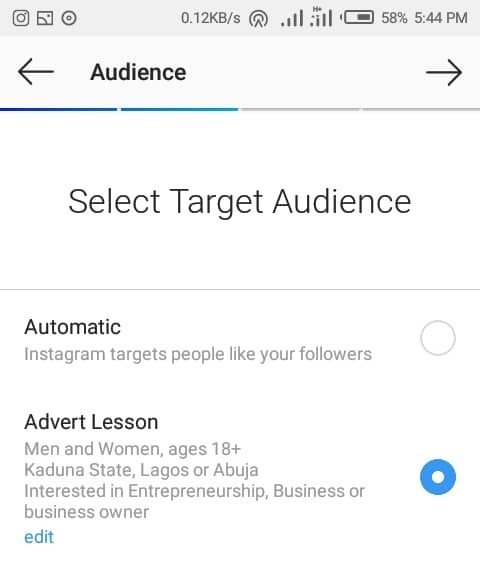 Now you see all your targeting information here. Meaning you are done with the hard work. Now Tap the arrow icon to proceed.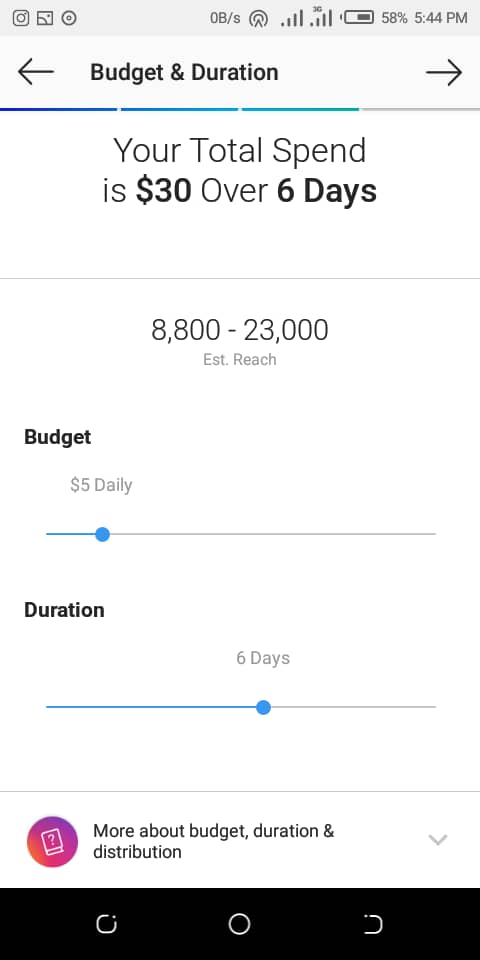 Now select your budget by sliding the bar in the appropriate direction. You could decide on a dollar a day for 30 days. That means you will spend N 365 (three hundred and sixty-five naira) a day for XYZ number of days. After that tap the arrow icon to head to the final stage.
Click on create promotion and your Instagram sponsored ad is successfully created. Now you can watch as the calls or messages come in. Create time to answer questions and chat with people. Irrespective of the destination option you chose, many people might be asking questions about your product or service in the comment section, so always check and attend to them to boost conversion.
After your ads have been approved, you can then view the performance of your Instagram sponsored ads by visiting the post and clicking on "view insight". This will take you to where you can see how well your ads are performing.
If you want your online campaign handled by professionals with good experience, you can contact us. Aside from being an expert on how to advertise on Instagram 360 Hub thrives in teaching you or members of your staff how to create Instagram ads in Nigeria that produce awesome results. Other of our online promotion channels includes paid advertising (PPC), Facebook ads, Search Engine Optimization (SEO), and Email Marketing.
15 Advertising Facts and Stats You Need to Know
If you are not running ads for your brand online, you are sure missing out on awesome opportunities. Take advantage and move your business forward in ways that will surprise you. And the beauty of it all is that learning how to advertise on Instagram is not as hard as you may think.
If you are looking for ways to increase more sales with your Instagram ads, you may want to read how to grow your business with email marketing.
How to Advertise on Instagram (Video Guide)
How to Target The Right Audience on Instagram Ads (Video Guide)
Some Instagram Ads FAQ
How much to advertise on Instagram in Nigeria?
Your Instagram ads will cost between 10 cents and $2 per click (CPC) on an Instagram campaign or lower. Instagram ads cost in Nigeria naira start from 500 naira daily. Though you could run Instagram ads in Nigeria with 3 dollars, it's advisable that your ad run for up to 7 days for better results. But you will be charged differently for cost per thousand impressions ads (CPM) also known as cost per mille.
What budget do I need to advertise on Instagram in Nigeria?
You can start advertising with as low as N2,000 but that is not recommended. Your ads budget should start from N15,000 if you wish to get a good result.
How can I create Instagram ads by myself?
This guide will teach you everything you need to start your first campaign free.
What is Instagram cpm?
It is the cost for advertisement explained above. Meaning paying per a thousand impressions. CPM stands for cost per thousand or cost per mille. CPM is a marketing term used to mean advertisement cost for 1,000 impressions on Instagram.
Is Instagram ads effective?
Yes. Instagram ad is effective like Facebook and Google ads. The reason people don't succeed with Instagram ads is that they are doing it wrongly.
What of how to pay for Instagram ads in Nigeria?
You can easily pay for your Instagram ads in Nigeria with your naira Master or Visa Cards. See that in the video
Do you have a guide on Facebook Ads
Yes. Check it out here
How to pay for Instagram ads in Nigeria?
Payment for Instagram ads in Nigeria via your debit or credit card. You can use your regular naira Mastercard or Visa card to make payment after adding the card to your Instagram account on a postpaid basis. Alternatively, you can pay for Instagram ads from Facebook if your accounts are linked. On Facebook, there is the option to just add funds to your ad account without necessary attaching your debit card to the account.