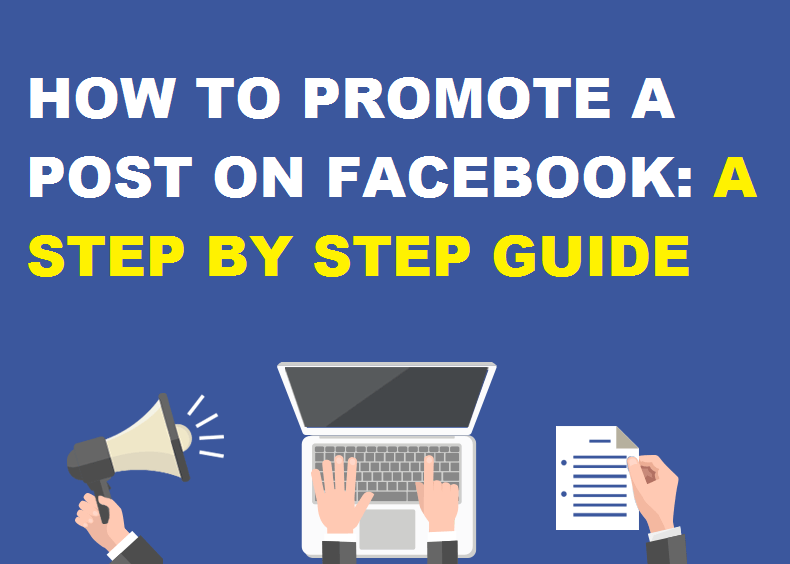 Learning How to Promote a Post on Facebook is a great way to boost declining reach on the social media giant platform and get your products and services in front of the right audience. Your ability to effectively promote a post on Facebook equals better visibility and ROI for your business whether your targeting is within your country or international just like Instagram ads.
What Does it Mean to Promote a Post on Facebook in Nigeria or Anywhere Else?
Promoting a post on Facebook simply means empowering your content and your page to reach a larger audience than you currently have as your followers.
For instance, you may have just 100 followers on your page or fewer. What this means is that your posts will always reach below 100 people, unless by some miracle your content is so great that it goes viral. While we are at the viral topic, you must also understand that posts relating to your services may never go viral.
Your best shot to get thousands of people to know about what you do is by promoting your post to a carefully selected audience that will help grow your brand and increase sales.
In the example above, though you have just one 100 followers, your post can reach over 200,000 people when you decide to promote it on Facebook. That will lead to the next most important questions most of you like to ask:
Is it worth it to learn how to Promote a Post on Facebook?
Does promoting a post on Facebook realy help business growth?
Is Facebook not a place where children run wild and crazy?
Can I realy get customers on Facebook?
Is Promoting a Post on Facebook Worth the Time, Effort and Money
Firstly don't listen to anybody who tells you that they have spent XYZ amount on Facebook ads without success. The only reason a person will have no result after promoting a Facebook post or advertising on Google is that they lack the knowledge of what to do.
Remember that popular Bible verse "My people perish for lack knowledge"? That is precisely the answer to why Facebook ads fail. Because there are billions of humans on Facebook. Unless you are selling alien products, you should succeed.
Facebook is a ripe market for your business growth because:
Benefits of Promoting a Facebook Post
While this lesson is on how to promote a post on Facebook, you can also read this guide that teaches how to promote Instagram posts without Facebook for those who use just Instagram or prefer it.
That being said, here are some benefits of promoting or boosting your Facebook post, having it in mind that promoting or boosting a post is different from setting up ads in the Facebook ads manager that comes with more functionalities.
Reach more of the right people on Facebook
Promoting a Facebook post expands your brand audience beyond people who already like or follow your business Page. With the sophisticated built-in targeting options available, you are sure to reach the people most likely to patronize your business.
Promote your Facebook post in minutes
With post promotion, your ads can be up and running in minutes. To promote your post, just choose an existing post with the right message and unique selling point, then target the right audience, choose the appropriate call to action, duration, budget and you are done.
Extend your Facebook post promotion reach to Instagram
When promoting a post on Facebook, you also have the option to have the content appear as a boosted or promoted post on Instagram. By selecting that, you can easily reach even more prospects or followers.
How to Promote a Post on Facebook in Minutes (The step by step guide)
To promote a post on Facebook, you must first publish the post. The post should have a high-resolution image or enticing video. Your post-write-up which would be the ad copy should contain your product or services unique selling proposition to quickly engage prospects.
If you are using a video, let your first few words contain the unique selling point of what you are offering. You will find this common with wix ads.
Step one: Click the Boost Post Button.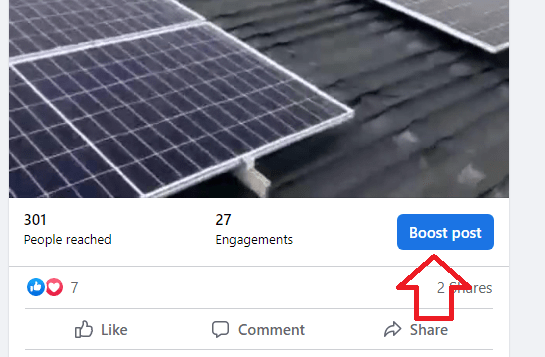 The first thing you do, is click the blue boost post button just beneath any of your posts as shown above.
Step 2: Change Your Campaign Goal From Automatic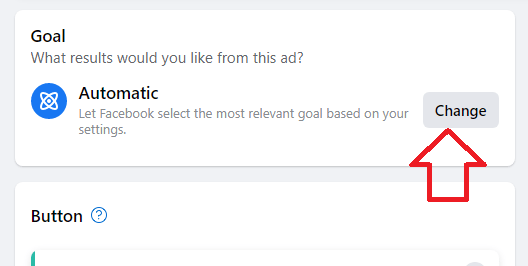 After clicking on boost post, in the next window, click on change under goal. This will help you determine what action you want users to take when engaging with your ads to a large extent, or what you want to optimize your ads for.
Available options are automatic which is the default, others are getting more messages, get more video views, get more leads, and get more calls.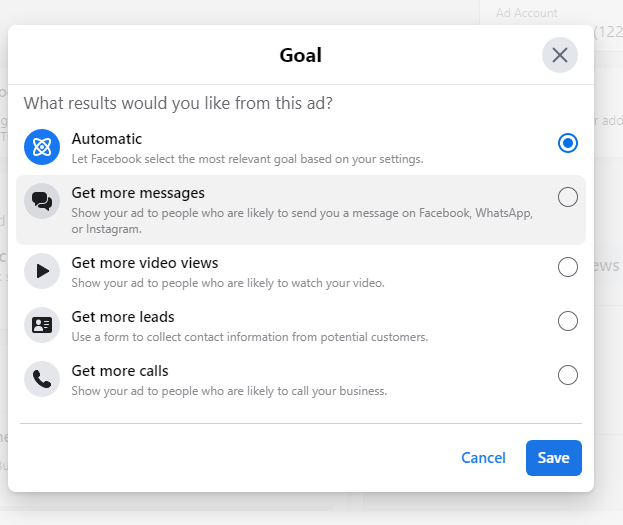 If you want prospects to send you a DM, then select get more messages or any other option you like. The key is choosing what works and testing is necessary to arrive at what works best.
Step 3: Choose Your Ads Call to Action Button
One of the most important things to note about promoting a post on Facebook is choosing the right call to action button. You cannot be selling products for instance and you choose to use the book now as your call to action button.
Here is a pointer, Shop now should go with product sales, messages whether on WhatsApp or Facebook Messenger should be for further enquiry or for order as well. When you use send message as order now call to action, also direct users that they should send a message to order in your ad copy or say it in your video.
You also have call to action button options like Learn more, Book now, Shop now and Sign up that require a link to your website or a web page. If you have no website for your business, you can contact us for one or use this video guide to create one by yourself. You also have Get direction call to action button that directs prospects to your physical office address, Send message that is linked to Facebook or Instagram DM or both, Send WhatApp message linked to your business WhatsApp, and Call now that is linked to your phone number.
No matter your choice, your aim should be to have a call to action button that is in line with your campaign goal.
Step 4: Special Ad Category

Leave this option as it is unless your ad falls under any of the following categories:
Credit
Employment
Housing
Social issues
Elections
Politics
Step 5: Facebook Audience Targeting
This section can make or break your post promotion exercise. As a rule of thumb, if your Facebook post promotion or campaign goal is brand awareness, leave the targeting on the smart audience option. This will enable Facebook to automatically customize your audience to reach more people who may be interested in your business.
But if your campaign goal is not brand awareness, then select people you choose through the targeting option to enable you to target the right people and save that audience for future use.
Targeting audiences options like people who like your page and people who like your page and their friends is self-explanatory. A better option depending on your goal is to click on create new audience so that when the audience performs well, you can use it again another time for the same product or service without creating it all over again.
So click create new or select people you choose through targeting.
People you chose through targeting. If you select people you chose through targeting, you need to click the pencil icon on the right to edit the audience to your taste in the pop-up window.
Create new audience. If you click create new, you would have to name your audience and start entering your targeting data just like the option above. The only difference is that in the people you chose through targeting option, there is no option to name your audience. Be that as it may, the audience can also be saved.
See screenshot below.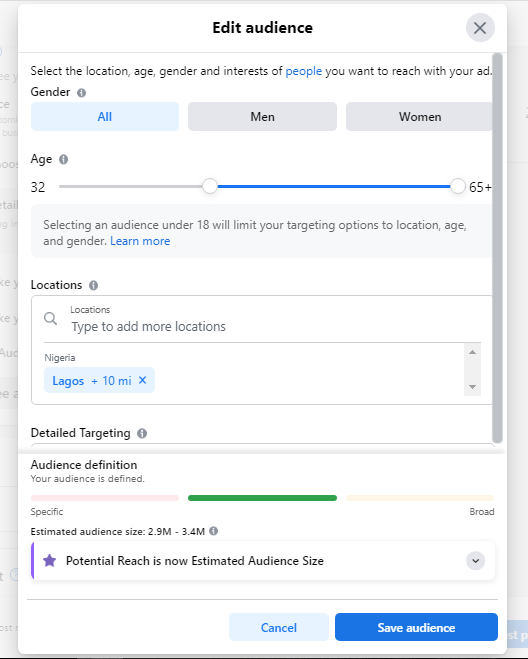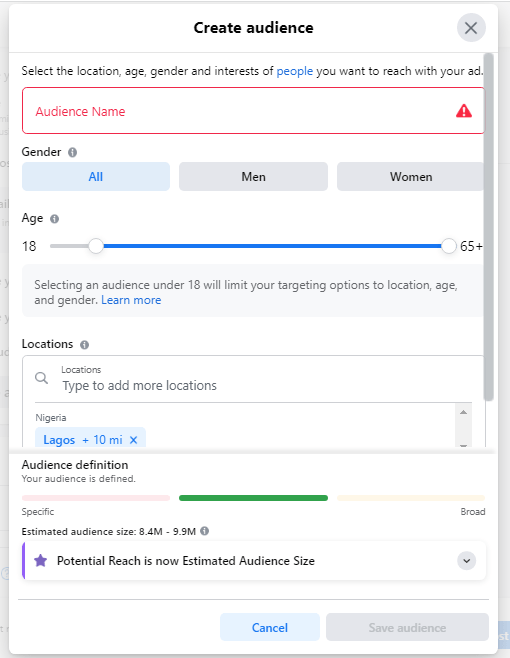 Step 6: Creating Your Audience
The first option is to name your audience. Once you click create new, you have the option to name your audience. It's always better to name your audience by the particular service or product you intend to promote.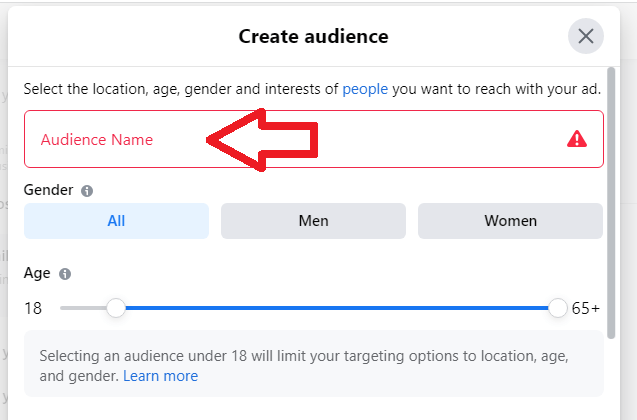 Choose Gender. This is straightforward as there is no technicality here. If your product or service is for men choose men and vice versa. Leave it on default "all" option if the product or service is for both male and female. See the screenshot above.
Age Option. Another important option is age. Choosing the age to target is not that simple. For instance, you could be selling a product that teenagers and young adults use, but are normally purchased for them by their parents. In that instance, targeting teenagers would be the wrong option.
Similarly, there are products or services that one of the Gender purchase by a very large percentage though used by both. Targeting both gender in such cases may lead to many curioisty clicks and blow out your budget.
Solar is used by all for instance, but purchases are mode 90% of the time by men. Thus, targeting men alone will do just fine for solar and will help to eliminate most of the curiosity clicks.
Therefore, endeavour to know the right age to target. This will make your post promotion on Facebook fruitful.
Step 7: Location Targeting Option
The location targeting depends on what your are promoting. You have the option to target just your state or locale or your entire country. All you have to do is type your country name if you intend to target your entire country and select your country from the drop-down. The same thing applies to states and areas. For Nigerian businesses, you can choose to target just your state if that is all the area your business covers. You could also target specific areas within any state.
Step 8: Detailed Targeting Option
To target effectively and get the best results, there is a need for you to create a prospect persona to make it easier. If you create a prospect persona based on certain qualities like age, agender, education, lifestyle and interest, you can easily target that class of users on Facebook.
In simple terms, a prospect persona document would highlight the qualities that a regular customer has in common and target Facebook users with the same or similar qualities via detailed targeting.
Back to detailed targeting. There are two options to target users here. One is to type the attributes you think your prospects have in common in the space, and the other is to browse the detailed targeting option by demographics, interest and behaviour.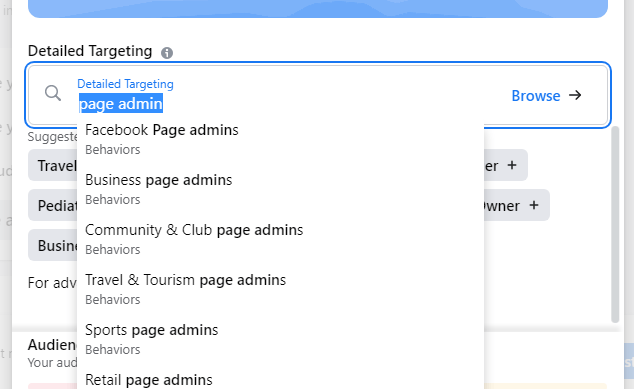 On the other hand, if you sell a product that anybody can afford, and have a good budget, you may just use age and location as your targeting option and leave out detailed targeting.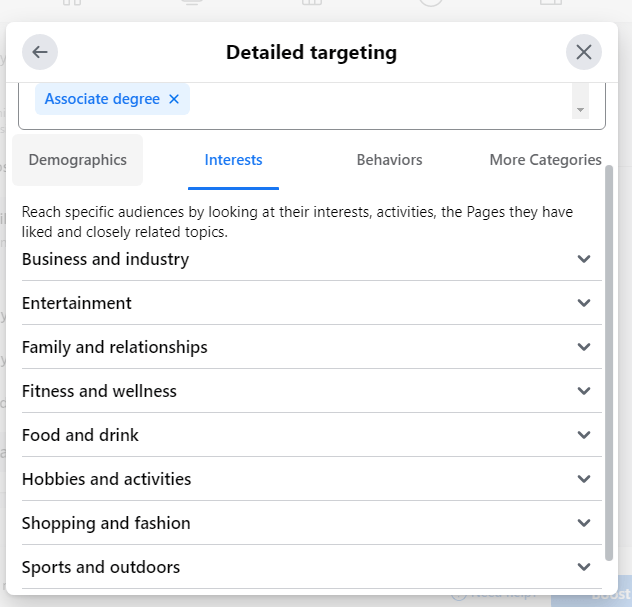 The browse category detailed targeting option gives you the ability to browse targeting by demographics and select applicable options. The same process goes for Interest and behaviour targeting options as shown below. Under interest, you could click on shopping and fashion and select children or men's clothing if you are selling children or men clothing respectively.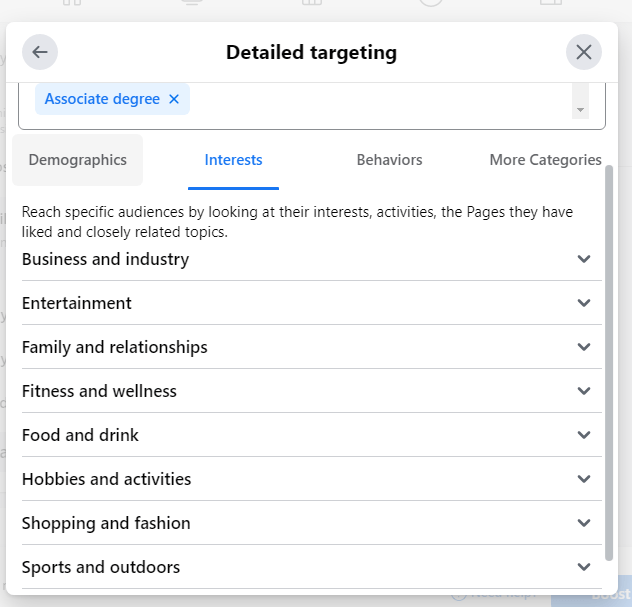 What that means is that you are targeting people who have interest in children or men clothing and may have made purchases in the past.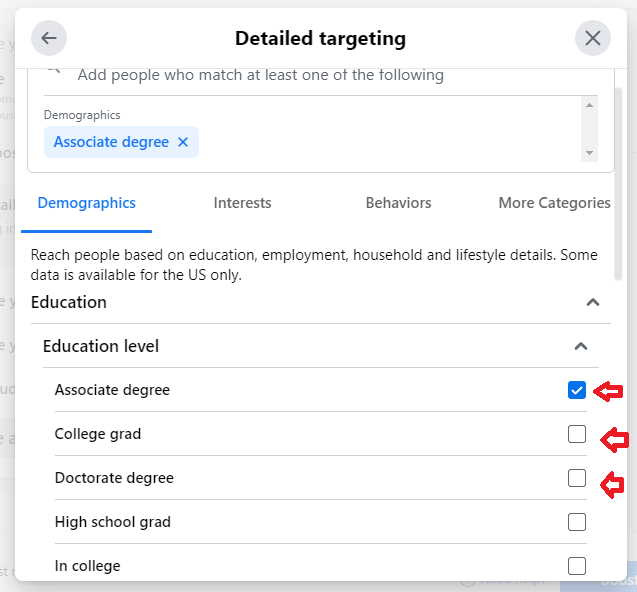 After entering all the options or browsing the categories and selecting the best applicable option, click save on the bottom right just beneath where your audience possible reach would be displayed to save your audience.
Step 9: Post Promotion Duration and Total Budget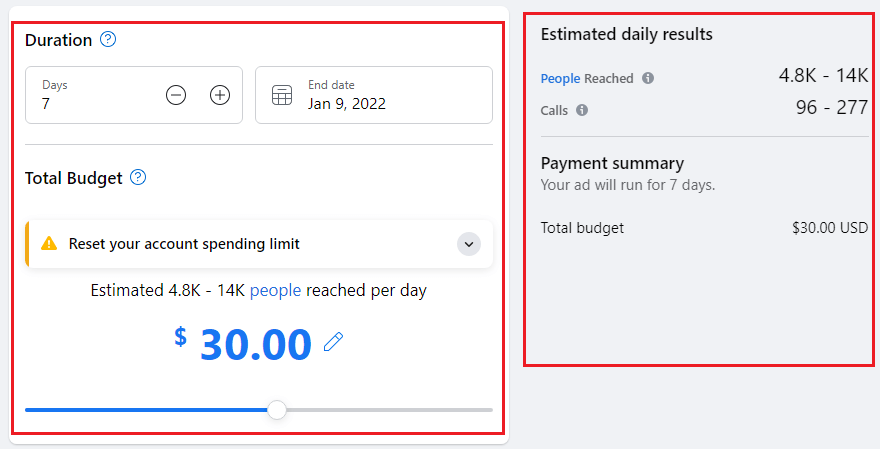 Under this option, choose the number of days you want your Facebook post promotion or ad to run. As a rule of thumb, let your ad run for minimum 5 days. If you have the budget, let it run for as long as you want, so long you are seeing desired results.
After that, choose the amount of money you want to spend. If you are in Nigeria, your currency may be in Naira, but no matter what currency you see, choose the amount you want to spend and that will affect the number of estimated reach and engagement on the right hand. The minimum budget is 1 US dollar per day. Choosing a budget 3 to 5 dollars a day for start might be okay especially if you are not selling high-end products or services.
Step 10: Boost Post
After choosing duration and budget, all you need to do to complete the setup is to click Boost post now on the bottom, and Facebook will review your ads for a few minutes and some time an hour before your ad goes live. After your ad goes, the only thing left to do is monitor and optimize for better performance. Remember to choose the right budget for your ads that is in line with your objective. See Facebook ads cost and factors that determine the cost here.
Final Word
By following this simple guide on how to promote a post on Facebook, your business could see significant increase and growth. And don't buy into the narrative that Facebook ads don't work. Amazon daily ads on Facebook is about 50,000 different ads. You don't think that Jeff and his crew are marking bad marketing decisions, do you?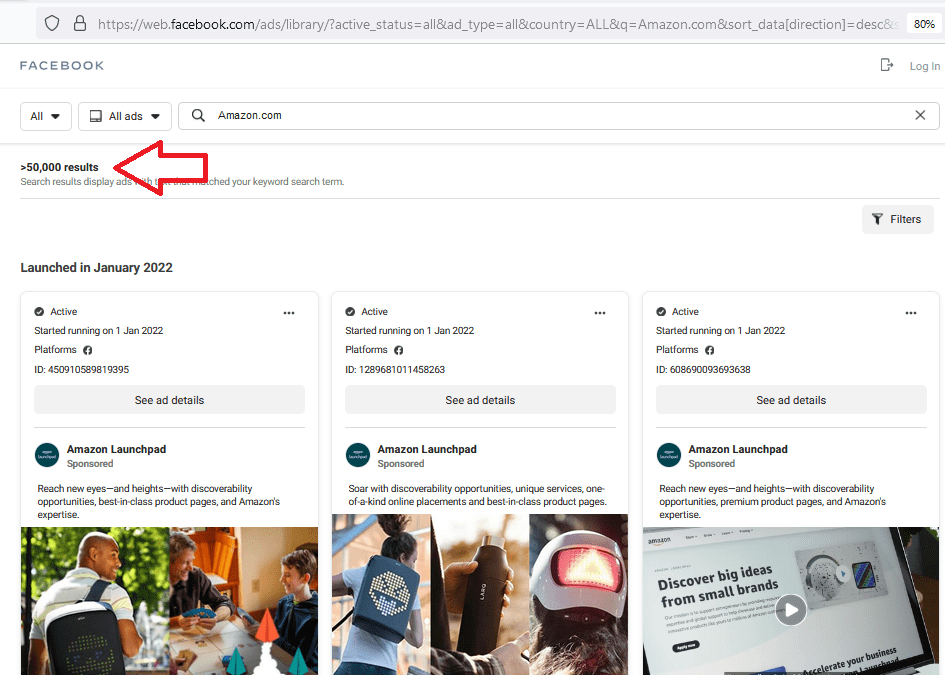 What is more, you do not have to master Facebook ads manager before you advertise. That is what promoting or boosting a post is for. Sometimes, there is no need to complicate issues.
See Also: How to grow your business with email marketing guide
If you have any further questions, feel free to ask in the comment section below. If you want us to help you with your Facebook, Instagram, LinkedIn, Youtube or Google ads, contact us here.
How to Promote a Post on Facebook FAQs
How much does it cost to boost a post on facebook
The minimum daily budget for ad is 1 US dollar and it's advisable to run the ad for a minimum of 5 to 7 days. Therefore, with a budget of $30 you can promote a Facebook post. Industry, country and nature of the product may make a small budget like this too small to run ads on.
Is Promoting Facebook post effective
Yes. With the right knowledge, you could boost a post and see great results.
Can one promote Instagram post from facebook
Yes. This option is posible from Facebook
Is it possible to boost a post on Instagram without Facebook
Yes. Option is available only if you have not advertised the Instagram page before. That is if the Instagram page is not linked to your Facebook ad account. See the guide here
How do I pay for Facebook ads in Nigeria
You can pay with your credit/debit cards or by adding funds.
Which Facebook ads are most effective?
Cost or pay per conversion ads is always the most effective unless your campaign goal is brand awareness.
Can Facebook ads target areas?
Absolutely. Facebook ads can target your area of choice.
Where can I create Facebook ads?
You can either create Facebook ads by promoting or boosting a post or via the ads manager.