One of the cheapest and most effective tools to grow your business online is email marketing. And it's irrelevant whether you have a website or not. Prudent business owners know the importance of creating a system that constantly reminds prospects of their products and services. That is why the search term "how to use email marketing to grow your business" is growing by the day. But first, the relevant question many would want to ask is, "is email marketing for business growth really worth the effort?"
Can You Use Email Marketing to Grow Your Business?
Big brands keep people reminded of their products all the time until they are converted to customers. The only difference is that they do it with TV, Radio, Billboard, and online ads. As its aptly stated by Steuart "Doing business without advertising is like winking at a girl in the dark. You know what you are doing but nobody else does."
But for emerging businesses, email marketing for startups is one of the best ways to get hyper results from every other effort you put into your online marketing.
The latest survey shows that the average website visitors conversion rate is about 5%, while email marketing is at 14%. What it means is that you need an email marketing strategy to turn your prospect into paying customers whether by using a website or just social media.
To be sure that email marketing can be a game-changer for your business growth strategy if used correctly, let's consider some email marketing statistics below.
Email Marketing for Business Growth Statistics
According to results from researches on the effectiveness of email marketing for business growth published by Content Marketing Institute, Wordstream, Convince & Convert, SaleCycle, DMA, and many more reputable researchers:
Email marketing is the most effective way of nurturing leads. And over 31% of businesses cite newsletters as their highest-performing tactic in this regard.
An individual email address is worth about $50 to companies
Email marketing produces £42.24 (approx. $55) for every £1 spent
59% of B2B marketers cite email as their top channel for revenue generation
Email newsletters are the most-used type of content marketing for 81% of B2B marketers
59% of consumers states that emails affect their purchase decisions
A whopping 320% more revenue is driven from automated emails than non-automated emails.
A welcome email series drives more revenue than having a single welcome email or none at all.
86% of customers would like to receive monthly promotional emails, while 15% would like to receive them daily
It's clear that you can use email marketing to grow your business no matter the size of your company. Startups can grow even faster when they adopt email marketing as part of their business growth strategy.
The main reason email marketing works so well is coded in what is shared by the renowned sales expert Brian Tracy. According to him, prospects are not thinking about your business offers after your contact with them. They are preoccupied with other things. To convert them to customers, you have to keep reminding them about your products or services, else that money meant for you will go to some other place.
Automated email series and newsletters are perfect for keeping your products and services fresh in the mind of your prospects. And the beauty of this is that email marketing starts with just $15 a month. Heck, you even get to use some of the service free for 30 days if you like.
With email marketing automated series, you don't have to worry about being too busy, or whether you would remember to announce new products/services at the right time. Once you set up, you can go rest easy and let the conversion come in.
From the above, we now know without a shadow of a doubt that email marketing will certainly deliver growth for any business. But how do you set it up for your business with or without a website?
How To Set Up Email Marketing to Grow Your Business
Follow the steps below to start growing your business faster with this service whether you have a website or just a social media page. Below is the line of action to get started, illustrated with videos and texts.
Step 1: Sign up
(Click here to signup with one of the best email marketing company "Getresponse" that we are using for this lesson.)
They offer a 30-day free trial – NO CREDIT CARD REQUIRED.
A. Visit the home page by clicking link above and enter your email address, then click "sign up free" as shown below.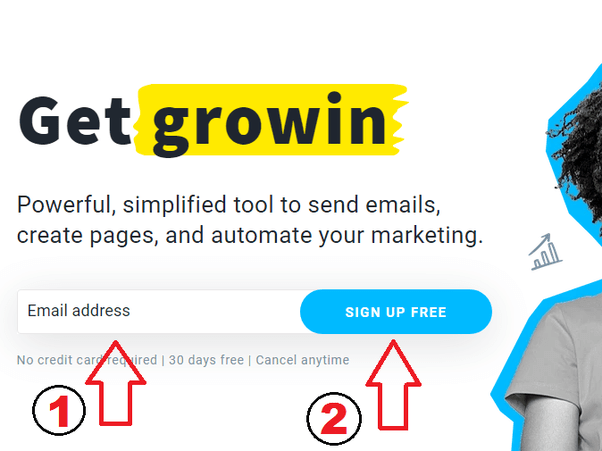 B. Fill in your name and enter your password of choice to proceed. Your password must be at least 8 characters with mix letters and numbers, mix small and capital letters and one or more special characters like #.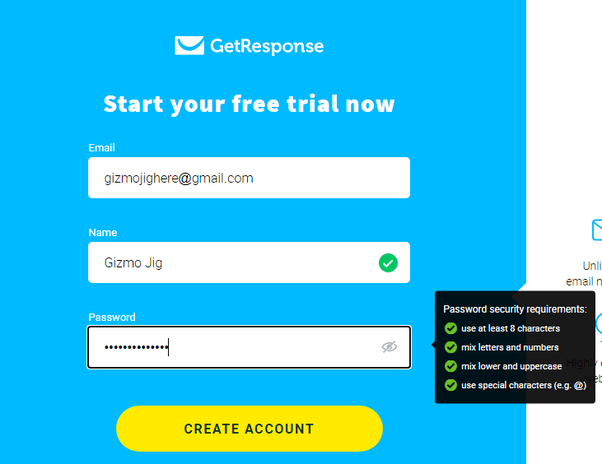 C. You will be notified that you are almost done. What you do next Is check your mail.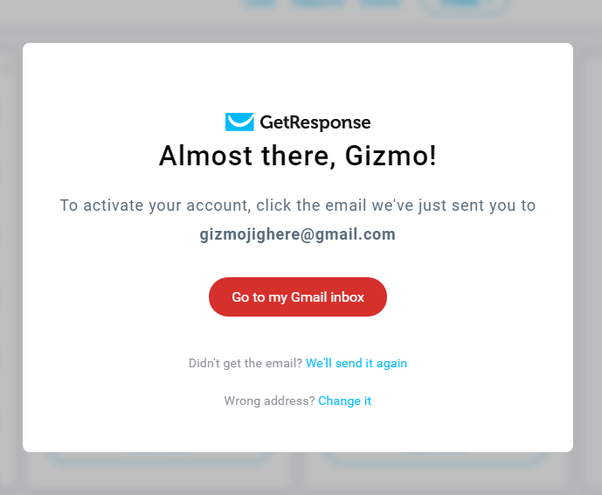 D. Open your mail, click on Please activate your Getresponse account mail as shown below,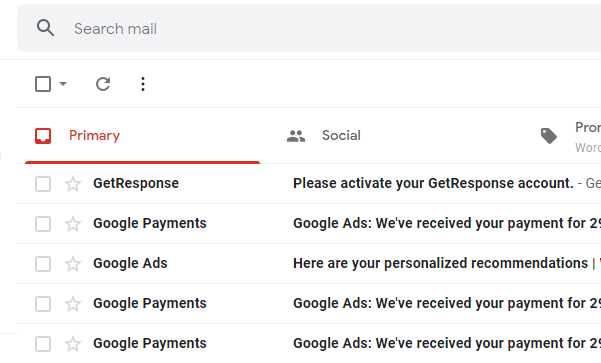 E. Click the "activate your account" button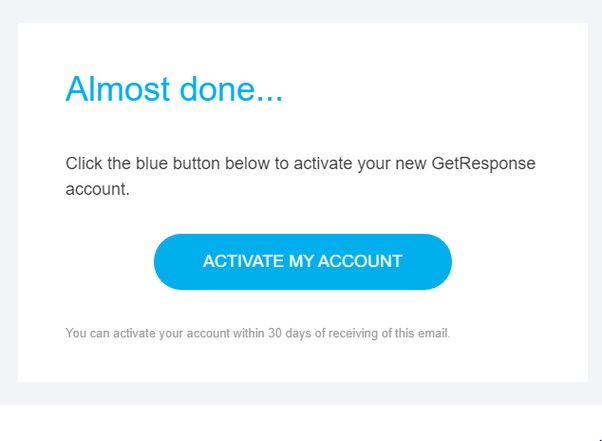 F. To complete the account opening, enter your address, ZIP/Postal code, City, State and Phone number.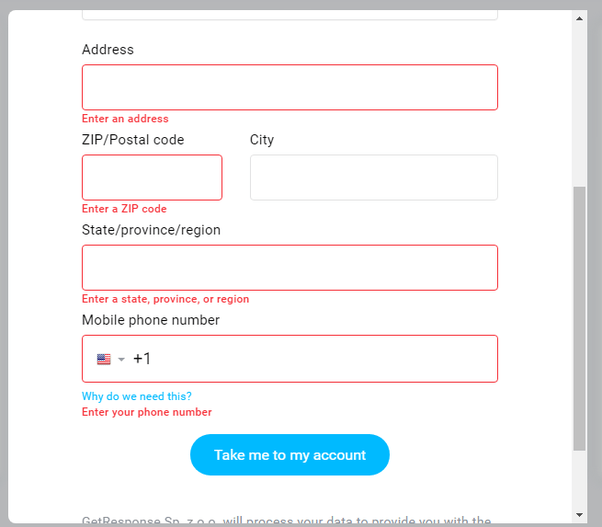 Whether you are setting up email marketing for affiliate marketing or for small businesses, the steps are the same.
After signing up, what you want to do next is create your email list. You will be able to have as many lists and email forms for each list.
How this works is, you create an email list for a particular service or product that you may want to promote or collect emails for.
Let's say your company is a business executive development firm or a fashion brand. You could create a list for middle manager training prospects or female clothing respectively.
The purpose of the list is to get prospects to submit their email addresses. Either by offering a discount and submitting an email address to get it or using the form as an order or registration form. See sample for a discount offer below.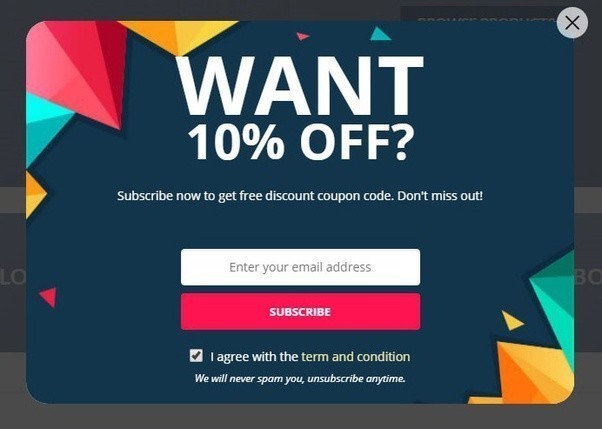 Therefore, the line of action is to create a list first (Upload contacts if you already have contacts of your customers). Then create a form to get contacts into the list. This will enable you to promote to your contacts in a particular list at will. You can also send out a general announcement to contacts in all your lists.
Step 2: Create a Contact List
How to Create an Email Marketing List to Grow Your Business
The first video below teaches the following:
How to create email list in Getresponse
How to turn on/off double optin
How to receive notification each time some joins your list
How to add contacts/leads you already to your list
How to design and send your first newsletter if you already have contacts.
Step 3: Create a Form for Email Collection
After your list creation, the next thing is to create a form with which you will collect emails and link it to the list you have created. If you already uploaded contact, your form would be used to add fresh leads to your list. Video 2 below explains that.
Now that your form is created, you want to use it to collect emails by embedding them in your website, if you are the one managing your website. You can also send it to your developer if you can't do this yourself.
This same process will work just fine for email marketing for affiliate marketers, bloggers, etc, as well.
For those who don't have a website, your strategy is to get prospect contact in your list by sending them the optin form link as shown in the video or by creating a free landing page in Getresponse. Your optin form link can be your order form that you give to customers on social media or forums.
Similarly, the free landing page that we would learn how to create in a bit can function as a form of website to collect the email addresses. No matter what you sell, or the service you render, you can use your social media pages to run promotions and point prospects to your free landing pages or optin form.
For instance, you could create a post on social media about a new or existing product/service for which you want to grant a discount for and direct people to claim the discount. This they can do by clicking the link to your form or landing page and completing your optin form to qualify. As stated earlier you can also turn your form to order or registration form for them to fill.
Boost the post to get maximum results. Or you can run a campaign to your landing page from your ads manager if you are setting up on Facebook. There are a variety of creative ways to do this. That means you need to know how to create a landing in Getresponse. You can also use landing pages even if you have a website.
Step 4: How to Create Email Marketing Landing Page With Getresponse
Refer to video 2 above on how to create a landing page.
It's important to note that you can do the following and more with just your landing page:
Your landing page can serve as your website with information about your product
You can add product pictures to your landing page.
Ability to add video about what you are promoting to your landing page
No need to link your landing page to a custom domain for it to work seamlessly
Count down timer can be added to create a sense of urgency for better conversions
You can add a call to action buttons
And more
You can turn your free landing page into a mini website to pass information to your prospect with video or text. You can even host a webinar on your page for free. Some companies I know have landing pages they use for social media promotions even though they have a standard website.
How to Create Email Marketing Automation to Grow Your Business
It is worth mentioning that some companies don't use automation series. What they do is get contact into their list and send them promotional newsletters either once a week, twice a month, or once a month.
Another method others use is to send single messages anytime they want to communicate and that works fine too. Be that as it may, affiliate marketers are mostly known for automation series. This is also good for selling a specific product.
With the automation series, you can create up to 15 well thought out emails over a 15 day period or you could make it run for one or two months. Automation series is meant to keep your contact reminded of a particular product or service to increase conversion rate.
This also takes the stress of having to send a message every two days or three days depending on your preference.
How it works
Your emails automation could be made up of 3, 7, 10, or 15 different messages to be sent out to anybody who joins your list. You have the option to send out emails daily, every other day…..
Watch the video below to set up the automation series. From your dashboard click create >> campaign >> choose a campaign type >> select a template to enter automation dashboard.
What is more, I believe this beginners guide has brought your search for how to use email marketing to grow your business to a fruitful end. The key is to test different emailing style and landing pages to find what works best for your niche for better conversion.
Remember that procrastination has the capacity to ruin your growth. So if you need growth, don't put it off till tomorrow. SIGN UP NOW AND FOLLOW THE STEPS TO GROW YOUR BUSINESS
Email Marketing Tips For More Growth
I know that deciding which marketing strategies to invest in as an entrepreneur can be difficult. After all, there is the option to use social media, Google ads, blog content, YouTube or other channels.
But from studies stated earlier, customers like to receive marketing materials via email. Meaning that all your marketing effort will produce hyper result if email marketing is in the sales funnel.
Remember that it is a fact that you can make up to $44 for every 1$ you spend on email marketing. Making email marketing your bet for business growth.
Now that you have signed up for email marketing, here are some tips you need to make your email marketing campaign produce more. If you have not registered, click here to register
Have a seamless signup process: Making the signup process simple means your form should be visible on prime spots on your website. Include it in your post and pages, and use it as your contact form. The same rule applies to placing it on your free landing pages. Another way is to use a single opt-in instead of a double opt-in.
Send different emails to different classes of subscribers: Avoid sending the same email address to everybody all the time. With your list, you can send different emails to those interested in certain products and services, those have made a purchase, new subscribers etc.
Offer an incentive: Making it easy for people to sign up to mailing is one thing and having a good volume of signups is another. To get better signup rates, offer discounts, give free ebook, free tutorials on something valuable. This will increase your marketing list.
Include call to action in your email: Always try to include a call to action in your email. Including call to action button or texts that direct them to take an action help boost conversion.
Send less marketing emails: One strategy you want to adopt that work is sending like 70% educative emails and 30% marketing ones. Educative means newsletters about what you do and helps relating to your service. Also, mention your product in your help and newsletter emails. Send less direct sales emails. Let's say you sell Laptops. Send your subscribers emails of how they can better maintain the product, accessories that can help improve their use, etc.
Use very catchy email titles: This will increase your email open rate and increase conversion. Think about it, what titles would make you open an email? Use such for your mails for better open rate and increased sales.
I know that not everybody follows these rules, but following them will fast-track your growth better.
Some Email Marketing Frequently Asked Questions
What is email list?
Email list is a segment in your email marketing account where you store subscribers for general of specific mailing. Lists are used to organizing your mailing.
What is landing page in email marketing?
It is a web page that advertises a particular product/products and service. Also, a landing page in email marketing is a web page where subscribe submit their mail or redirects after filling an option form, or after clicking a link from a news letter.
Can i use email marketing without a website?
Absolutely. Email marketing companies provide free easy landing pages you can use as your website. The beauty of landing pages is that you don't need any experience to edit one to a lovely website for free.
Can you make your own landing page with Getresponse?
Yes! You can create your own landing pages in minutes that can serve as your website or product pages.
What is Getresponse pricing?
Getresponse pricing starts from $15 a month after one-month of free trial
Is it difficult to use Getresponse?
Using Getresponse for mail marketing is simple. Just follow the video above
What is the average conversion rate for email marketing
The average conversion rate for email marketing in 2018 was 18.49%. 2019 and 2020 conversion rate was 15.11%.