Getting the right website for your brand can be a tough journey if you want the one that converts.
Real estate website design is
absolutely
unique like small business and a consulting firm website
. Granted, that you can pay any amount right away and your real estate website will
be developed
. The hard economy in Nigeria affects almost everything. As a result, business owners now price their company website design for as low as N 40,000 and even less.
But those who go for the best pay attention to what they want in their business website. Of what value will it be to have a website that will not bring you clients?
Make no mistake about it, if you cut corners and pay
meagerly
for your real estate website design, it will come back to hurt your business in no distance time
.
A website ought to
be designed
and optimized in such a way that it gets ranked on Google and other search engine for services the company offers
.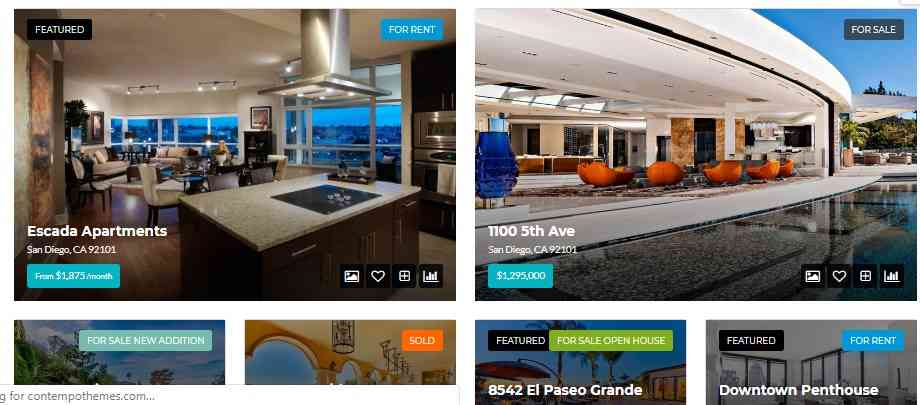 Therefore
when considering your website design project have it in mind that it is an important aspect of your business
. A bad website affects your companies credibility
just
like having none does.
An individual researching real estate companies or agent to patronize for their project will choose an agent or company with good website over those without one or those with
poorly
made one
.
Let me tell you a thing about searchers. They know that Google is reputable, and will bring up the best result when they search. Google
on the other hand
love quality content and would try as much as possible to display only the best.
What happens if a
poorly
made site
is shown
at the top of search result? Most
poorly
made websites are slow, unattractive, have distorted information and poor navigation.
When people visit sites like that, they will return to SERP (Search Engine Result Pages) to look at other pages
. This
is called
Pogosticking (return-to-SERP)
Pogosticking is a situation where searchers have to return to SERP because they are not satisfied with visited pages
. This affects your initial rank and Google throws you down because they care and keep track of things.
The point is, be a part of the design process by providing your web designer with adequate written information about your business
. This is because you are the best salesman for your company. As a real estate firm, one deal can make you a good millionaire.
Therefore
there
is need
to show that you know your job and that your integrity is not questionable.
Things Your Real Estate Website Design Needs to Exhibit
1 Deep Industry Knowledge and Experience
As an agent or company you'll be working a lot with clients who have little or no knowledge about the various steps involved in buying a home
.
Your jobs is to help them make sense of every vague step by offering exceptional
assistance
to turn an intricate process into a comfortable, very pleasant, and rewarding experience
. When you show this in your website, you stand out from others.
Nothing establish trust and credibility than a display of knowledge and experience. The only reason you trust your doctor is because he comes across to you as an expert. Some people will not allow an inexperience doctor attend to them. So it's not enough to show that you know, you must also show that you
are experienced
in this sector.
This you can
easily
do on your website to capture potential clients on your website even before they meet you
physically
. This possible because you the pastor and general overseer of your website. You have monopoly of information and data.
2. Your Website Should Show Your Areas of Specialization
There is no equality anywhere, not even in heaven. In the same vein not all real estate
is created
equal.
The purchasing of real luxury properties and waterfront homes, for example, are more challenging than regular housing real estate
. Residential homes like bungalows, normal duplex etc are easier deals. Luxury properties do
require
a greater degree of attention and effort than others. Luxury properties takes time to sell, some take years while regular sells faster.
The benefit of focusing on certain types of properties is
mainly
helping you grow your brand as a real estate specialist
. Specialists are those who specialize in specific things. They are not jack of all. Your website is the best way to showcase your distinctive expertise.
If you have to be a jack of all trade, you must have
sufficient
reasonable information to show that you
are indeed
good across board
.
3. Show That You Have Good Professional Network
As a company or agent from the home development sector, you need to capitalize on the connections that you make with fellow professionals in this sector
. You need to show to your customers that you can source out the best for them.
If you can recommend the best, interior designers, and other home related contractors, you'll spare them the stress of searching on their own
. The effect of this is you
being recommended
to others by your clients.
When you show this on your website, potential clients know that dealing with you will make things much easier
.
Essential Content for Real Estate Website
A good real estate agent website design should contain the following important sections to boost conversion of visitors to customers
.
1. Professional Email Marketing Campaign
Establishing an online presence also gives you the opportunity to collect emails from potential customers
. This is an opportunity to do this the right way and not the spamming style. Emails are essential asset in digital marketing.
A few numbers of genuine emails of those interested in your services will make a big difference between you and your competitors who don't have
.
Email marketing is the most effective follow up marketing funnel on the internet. With email marketing, you get to show your clients that you are the right company or agent to deal with. People are looking for the right information about where to invest their money.
What if you provide them with honest information about investing in real estate, what do you think is going to happen
?
2. Social Media Pages Integration
It is hard to think that a real estate firm does not have social media page. This should be in place from the first day your company starts operations.
If you don't have a social media platform for your real estate business, you are most likely losing out on a ton of opportunities to take your business to the next level you so much desire
.
Social media is
mostly
driven by photos, and your work as a real estate agent/company or developer
is showcased
in beauty
. When you share the right photos, your followers will increase and so will your client base.
A good social media marketing pattern can help your real estate business strike a formidable connection with local clients, boost sales, and increase trust with your client base
. This can some time happen without you even running a promotion and spending money. Your website should display your social media accounts in prominent places.
You about us section of your website will talk about what your company is about and the vision behind it.
This is an opportunity to build credibility by appealing to your potential clients with relevant information that would persuade them to choose your real estate firm over others
.
Talk about your driving force, your integrity and how you started the firm out of a need to do xyz.
Come across as someone who started a company because you want to solve a problem people are facing than
just
a businessman trying to make more money
.
4. Your Custom Real Estate Website Design Should Have a Portfolio Showcase Section
After all said and done, you have got to show proof of jobs you have done on your real estate website. That is why you need to keep photos of sold properties and those still open for negotiation. Display project you have worked on and those currently in progress.
This will show to potential clients that you have adequate experience and that you are not new to this business
.
If your firm has also won any award, here is also a perfect place to display the photo after you must have talked about them in the "About Us" section
. This will increase your credibility and expertise.
5. Your Real Estate Web Design Must Contain Testimonial
One major way to sell your firm fast as a brand is with the genuine testimony of past and current happy clients.
Solicit
testimony from your clients and add to your website. Take a cue from Certification Edge. The firm is not a leader in PMI and HRCi courses Certification for nothing. Their testimonial page is awesome and they live up to their name.
When you
correctly
leverage on the power of client testimony, your credibility can never be in doubt
.
Types of Testimonials to Use on Your Real Estate Web Design Project
Results Based Testimonials: Testimonials from customers touching on how they were helped by your company to achieve their real estate goal.
Character Based Testimonials: Testimonials that attest to brands' honesty and trustworthiness. One major ingredience for conversion of real estate prospect is proof of honesty. If you have past and present clients attesting to your brand' s honest and seemless dealings, you would easily convert prospects into customers.
Objection Squashing Testimonials: Testimonials that allays prospects fears.
Interview Testimonials: This is a video testimonial where customers are interviewed with regard to their overall experience while dealing with your company. The easiest way to do this is to prepare 5 to 7 point questions to ask happy clients about their dealing with the company. Questions that touches on the above stated areas. Interview testimonials have the capacity to completely eliminate fear and increase sales.
Real Estate Web Design Cost
I am an advocate of value over cost.
Everyone wants to get stuff done at a good price but when you find a real estate web design company like 360 Hub, you
are guaranteed
of a good and thorough job
.
Prices change, but suffice it to say that the cost of getting a converting website is in no way close to 1% of the benefit derivable therein
.
A custom real estate website design project should
be taken
seriously
especially during the development stage
.
Don't make the mistake of dedicating your duty of liaising with your website designer during the development stage to an inexperience member of staff
.
During review stage of the project, make out time to re-evaluate the content and ask for changes where necessary
.
If you pay attention and provide good information to your designer, your website will be rich, and Google will love and reward you with clients
.