There are a variety of business growth strategies you can deploy to fast-track your business growth. One of such ways is learning how to get real Instagram followers for your business account. Targeted Instagram followers mean increased trust and more business deals for you.
Why Instagram Followers Are Crucial To Business Success
From the above, it is clear that having the right followers or reaching the right Instagrmers can substantially boost your business growth. For an influencer, a good following on Instagram also means that more companies will contact you to advertise to your followers. The reason why companies pay millions to influencers of various sizes for post sponsorship.
Instagram Account Growth And Automation Tools
No doubt, Instagram is a great app that enables the growth of your business and personal brand.
Because Instagram is so important for business growth, it's no wonder that there are many Instagram growth tools on the market to help grow your followers. Businesses and individuals know that having the right followers can be translated into cash very fast on the platform. That is why people resort to tools to help grow their Instagram account faster and easier. However, you can't trust all the applications out there.
Just like Google My Business, you can grow your business on Instagram for free with lots of patience and hard work (Regular engaging posts in form of feed posts and stories) But if you want to get the right followers fast then the best choice for you is using a trusted automation tool.
The reason why you need a good number of followers on Instagram to boost conversion is that people and brands will trust a page with lots of followers over those with little Instagram followers.
Take for instance you looking to hire a company to perform a particular service for you and you decide to check them out on Instagram. Over 90% of people will choose a company with thousands of followers who are active on Instagram over those with very few followers. That is why businesses and individuals use automation tools for their account growth.
When choosing an Instagram automation growth tool, it's of great importance to find one that's both safe and effective. Choosing the right one will breed growth, and choosing the wrong one will lead to no engagement in your content and can also cause you to have your Instagram account banned or disabled.
KickSta Review
The most popular and talked about Instagram automation tool available today is no doubt Kicksta. Statistics from Google search further show the importance of this tool. Results show that over 200k people search for kicksta service monthly and search is rising too.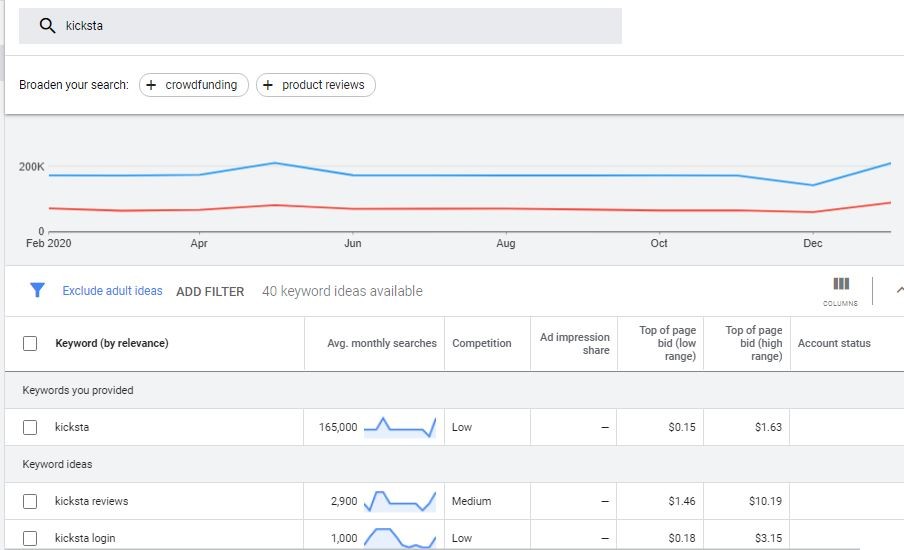 In this Kicksta review, I'll show you whether or not this tool is worth it or just like the others. I'll walk you through Kicksta key features, pricing options, and the important pros and cons of using this Instagram automation tool to grow your followers. I will also give my honest verdict.
What is Kicksta
Kicksta is an ace Instagram marketing tool that thousands of users trust. Kicksta allows you to automatically interact with users who from their activities possess an active interest in your niche. This Instagram automation application uses targeted search tools to find relevant users who may be similar to you. This in turn helps you gain real active followers who love what you do and will engage with you.
Beyond helping you to gain followers, Kicksta also promises to help its users get more sponsorships, gigs, and sales.
Kicksta has a unique strategy for Instagram growth for users: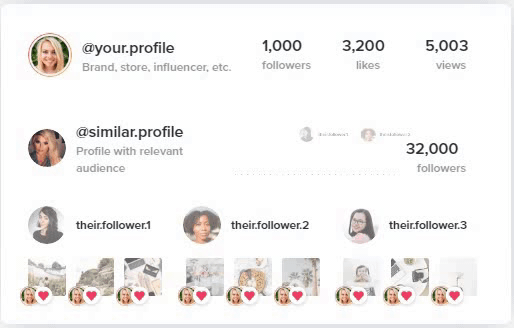 A well-Defined audience. Kicksta uses this information from this step to determine which accounts to interact with on your behalf.
Attracting the attention of your targeted audience (Targeted audience is made up of Instagram users who have an active interest in your niche). Kicksta accomplishes this by liking photos from accounts that accurately fit the description of your target audience.
Once the step above is implemented, users will receive a notification informing them that you liked their posts and visit your page. They follow you once they visit your page and what you do resonate with them, and this has worked perfectly for account and business according to the multiple genuine testimonials by users.
Key Features of Kicksta
Kicksta Instagram followers growth tool has a variety of key features that are designed to fast-track your Instagram account growth easily.
Non-Stop Instagram Followers Growth
Kicksta's smart audience targeting algorithm uses artificial intelligence and second to none machine learning strategy to help you build your audience seamlessly. This Kicksta feature enables you to connect with users who falls into the category of those most likely to follow and interact with your account type and niche. With this feature, you are able to make the most of your guided automated interactions with the tool. Kicksta promise is to reach thousands of accounts most likely to follow your page your behalf.
Premium Level Security
When we signup for services online, there is always some form of fear relating to whether the platform is secure. If you're worried about that while using Kicksta Instagram automation tools, then you'll be happy to know that your information are fully encrypted and protected. Kicksta make sure your information are fully encrypted using 256-bit SSL(secure sockets layer) encryption. Kicksta states that their security level is comparable to that of a standard banking institution.
Dedicated Customer Success Manager
Signing for a Kicksta account grants you access to a customer success manager. The Customer Success Manager is a real person dedicated to increasing the awareness of your brand and helping you to gain more followers. This is a key customer-centric feature that promote Kicksta effectiveness
Growth Reports

With a full analyic dashboard, Kicksta help you keep track of your followers count and their engagement rate with your account. These reports often come with actionable advice about what works best for growing your brand.
Kicksta's Pricing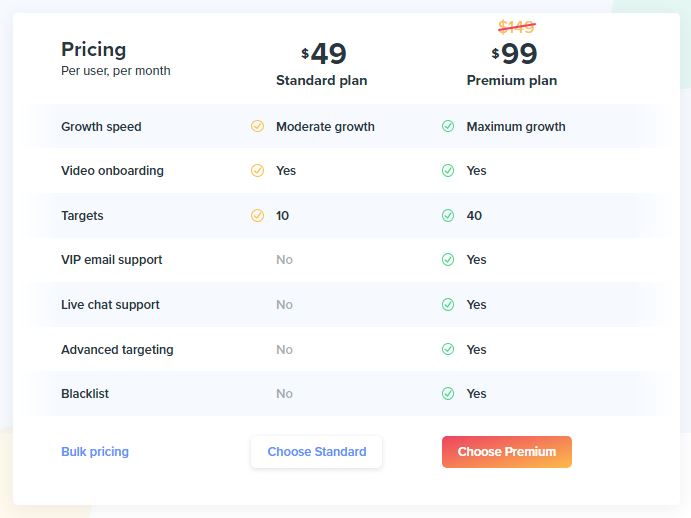 Kicksta offers two pricing packages based on your needs. Each of the plans promises a 100% real Instagram growth delivery to users. Both packages come with access to a customer success manager.
Kicksta's Standard plan
This plan is for those who want to grow their business. For a fee of $49, you can access a variety of features including:
Moderate growth speed
Smart Filters
Video Onboarding
Ability to define up to ten targeted audiences from your dashboard
Do Instagram Follower Counts Matter
The reason why Instagram count matters is because lot of people spend time on the platform. Thus when they want to deal with a company or person, their first point of action is to check them out on Instagram.
Brands know this and such they want social proof as a factor to help convert prospects to customers. They know people are definitely going to check out their page and they want to appear "legit."
Remember that Kicksta is not one of those "buy 20,000 Instagram followers for $150". Those are services that I wouldn't even entertain testing nor recommend for anyone. Those will give you irrelevant ghost followers who never engage with your content. They disappear after Instagram deletes fake/bot accounts during their regular purges.
Kicksta Review: Pros & Cons
Pros
Kicksta offers 14-day money-back guarantee: The first pro for me is their 14-day money-back guarantee: You get your money back from them if you are not happy with the service after the first 14 days no questions asked.
Website Security: Kicksta's website is secure with a premium SSL certificate. Meaning your Instagram login details and payment information is safe.
No Hidden charges: Kicksta pricing is straightforward with no extra hidden charges of any kind.
Toons of genuine testimonies by users: Kicksta has a lot of brands and individuals testifying to the superiority of the service and how it has helped them grow their businesses.
Awesome customer support: Speaking of customer support, Kicksta has 24/7 customer support for its paid users and a dedicated customer success manager.
Automation: I like the fact that Kicksta can be fully automated. This means you can configure your settings from your account dashboard and let the application handle the rest. Thus making your account growth quicker and easier.
Analytics: It is great that Kickstagram sends you a report detailing your account growth. Making it easy to send details to client or business who wants to keep track of their analytics if you are using for them.
Cons
From the above, it's obvious that Kicksta has a lot of positive aspects. Be that as it may, this review wouldn't be thorough without talking about its downsides.
1.) Pricing: The biggest downside to signing up with Kicksta for Instagram growth is its pricing. Granted that smart and futuristic brand can easily handle this, but small startups and influencers may think the price is too high and forget the benefit.
Pricing is further restrictive because they only offer two plans. Their cheapest plan (Standard Plan) is $49. Kicksta is one of most pricy Instagram automation tool out there.
Kicksta offers great features. If you like the feature, but want a service with more plans, you may want to click here to checkout Upleap. They are not cheaper, but they do have 3 packages. Upleap has similar key features to Kicksta.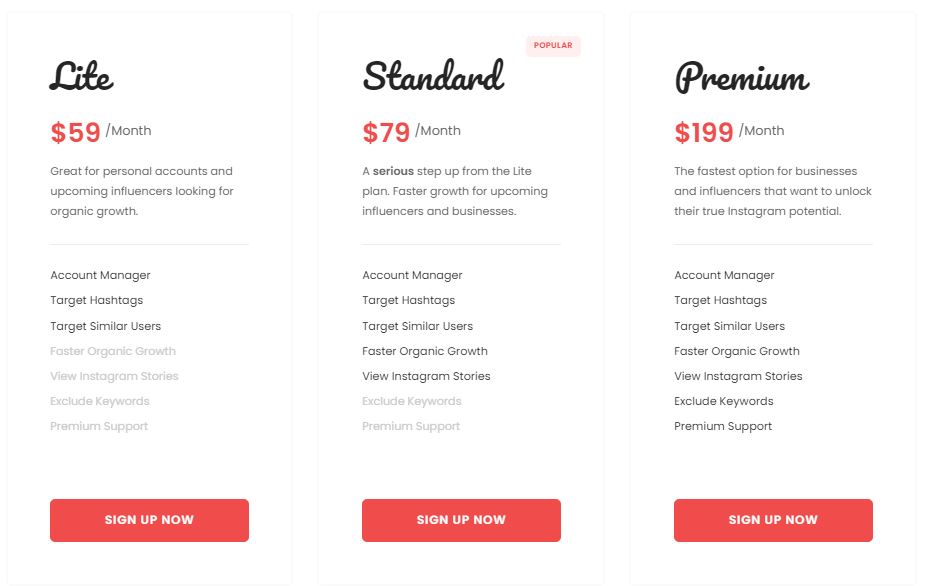 Your focus should not be on Kicksta's pricing, but the value they deliver. Kicksta does work far better than most of its competitors.
2.) No Automated Following: Another aspect a handful of users consider a downside is that you cannot automate follow with the tool. You can only automate likes. Because the tool is all about genuine and real followers with an active interest in your niche, auto-following is not available. If you are looking for a tool that can enable you to follow people automatically, Kicksta may not be for you.
3.) Free trial: Another feature some users complained about is offering a free trial account. Kicksta does not offer a free trial account at the moment.
Because the service is effective, they offer 14-day money-back guarantee instead. This allows you use the platform for 14 days and if you feel its not what you want, you can cancel and have a full refund.
Kicksta Reviews: See What Users Say About Kicksta.
Below are some screenshots of Kicksta reviews on reputable independent review websites by those who have used the platform and those still using it.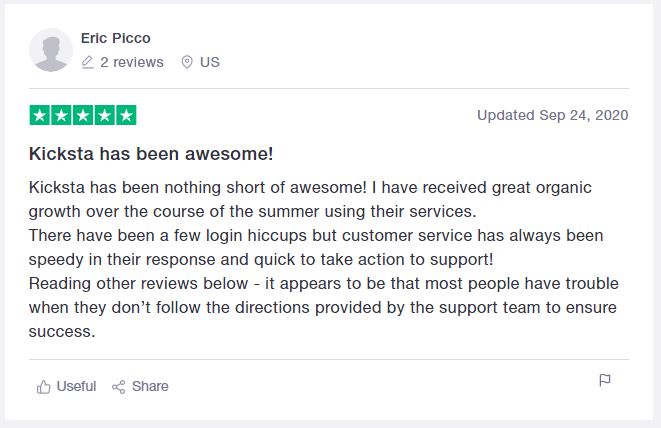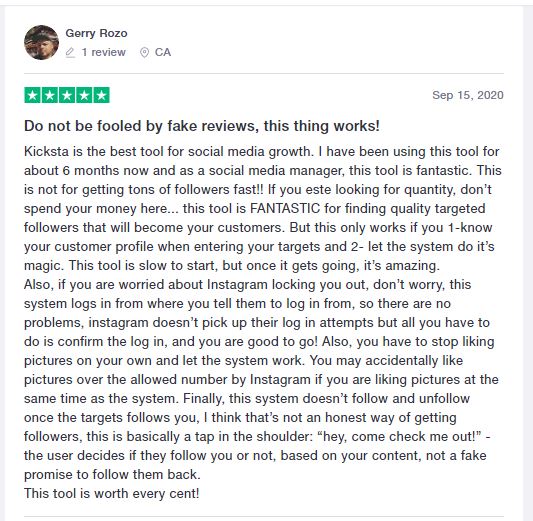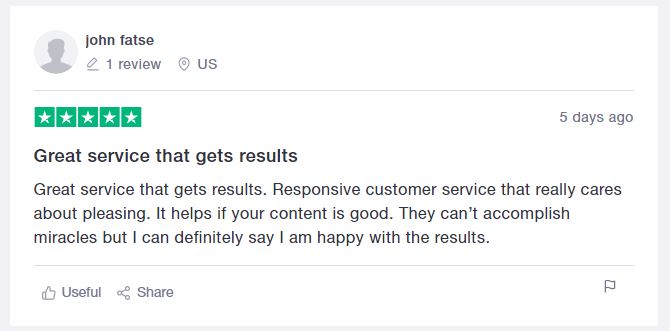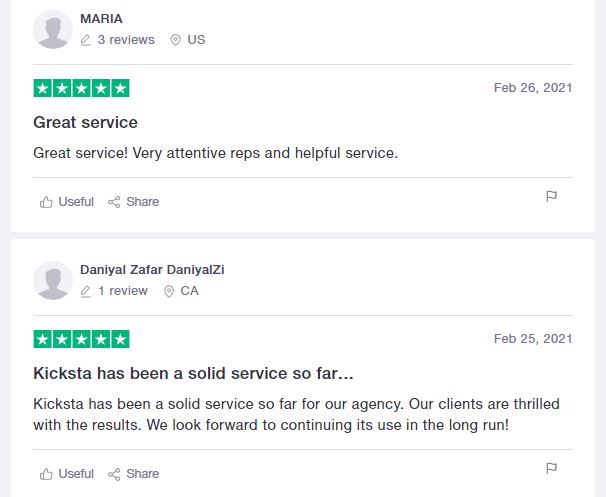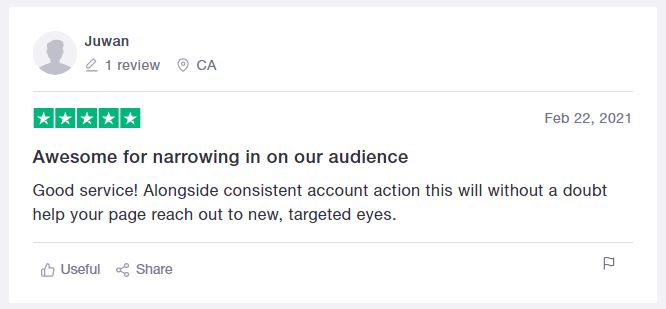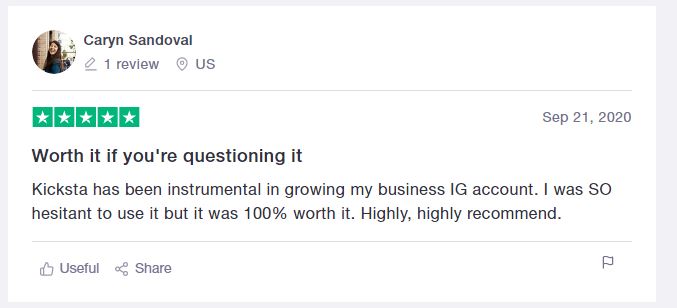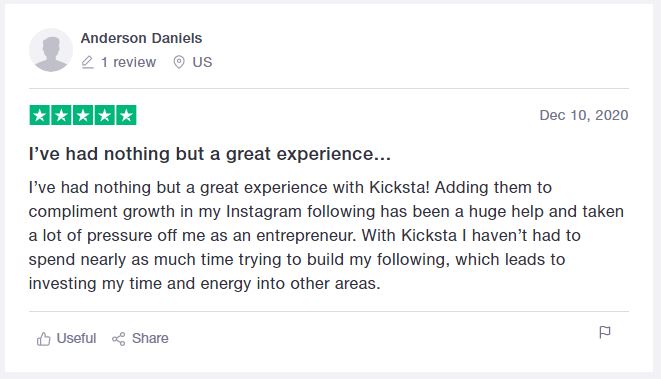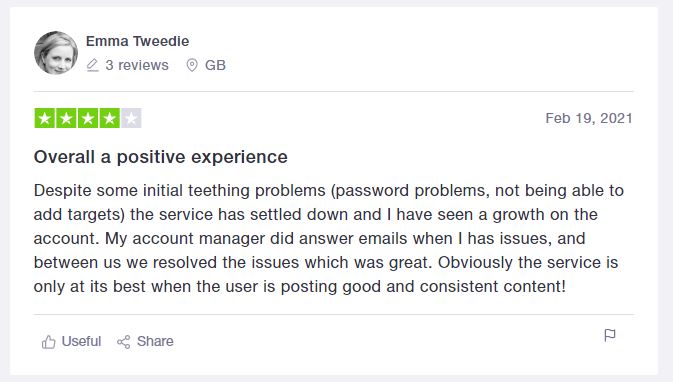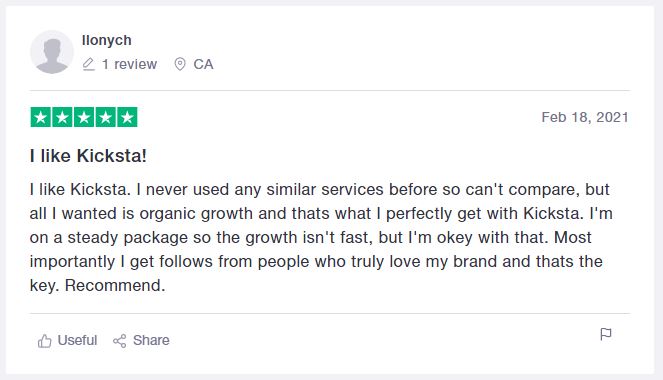 My Kicksta Verdict
From the above, can we say Kicksa is definitely Good? This is an obvious yes. One KEY thing i learnt from researching about this service and using it for my client is that users only fail to get the best result if they don't follow the rules and strategy Kicksta reconmend.
It has worked for so many people and still working. I don't see any reason why it won't work for your brand or client. But ensure you use it according to the rules to get the best result.
Does Kicksta work in every country?
Yes. What matters is an Instagram account.
Can Kicktsa give me thousands of followers in 24 hours?
No. Kicksta only give genuine followers with interest in what you do. Not fake followers that disappears after a while.
Is kicksta legit or scam?
Kicksta is a legit company and has been helping brand and individuals grow the Instagram account for years. It is 100% safe
Is Kicksta Free?
No. Kicksta has 2 plans. Standard (49 USD) and Premium Plan (99 USD). They however have a 14-day money-back guarantee that works. Check out their plans